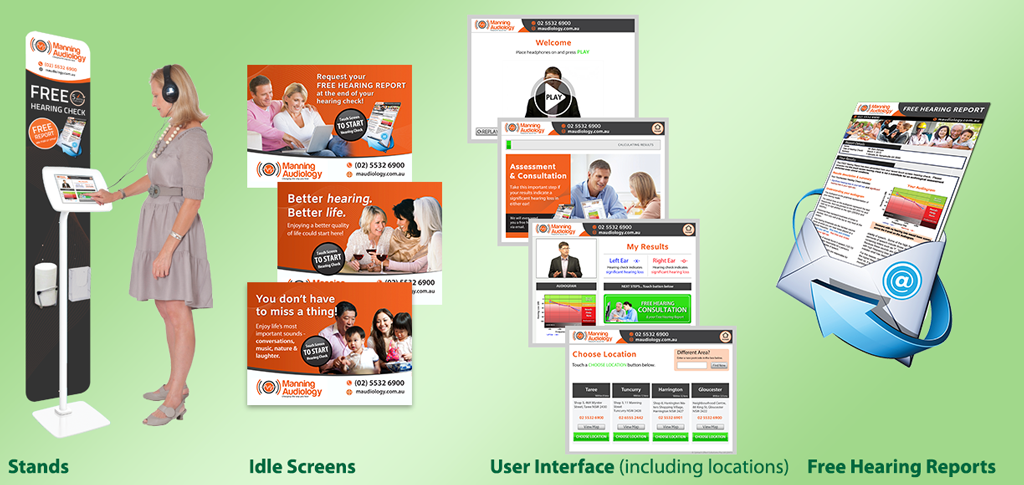 A custom-built hearing check at a fraction of the cost!
If your organization were to consider building a similar solution from the ground up, you would be looking at an initial investment of many hundreds of thousands of dollars (USD). And that is before considering annual maintenance and program management costs. For this reason, we have seen "so-called" competitors come and go over the years, including hearing aid manufacturers who once thought it was a good idea to enter this space. Many of these "competitors" are now clients!
When you partner with us, your solution is fully-customized for your organization for several thousand dollars and annual costs of a few hundred dollars per unit. And from a user's perspective, your Touchscreen Hearing Check will still look like it has been created specifically for your organization.
Let's look at how we customize the solution for your organization.
Branding
Your organization is always the hero and your brand is at the forefront of everything the user sees!
User Interface
The user interface will be in your color scheme, featuring your logos, your contact details, and will only feature your store locations. We even design three "advertising slides" that rotate at when the units are not being used with your messages.
Business Model
Do you wish to offer free consultations to users who have a significant hearing loss? Either way, the content and videos within the software will reflect your decision.
Stands
If you opt for a "kiosk", we will design your stands in your branding at no extra cost.
Free Hearing Reports
After their hearing check, users receive an email copy of their results. Once again, these reports are completely customized to your organization, in both look and content.
Country Localization
We have developed localized versions of our solution for many different countries, with many more in development. This includes video guides who speak with the local accent and geo-locating of your closest locations for the user based on your country's local address system (e.g. zip codes).
Your Data
As described and demonstrated here, the data generated by your Touchscreen Hearing Check is owned and is only seen by you. Data is encrypted so that you will have the sole access to the leads generated by your units.